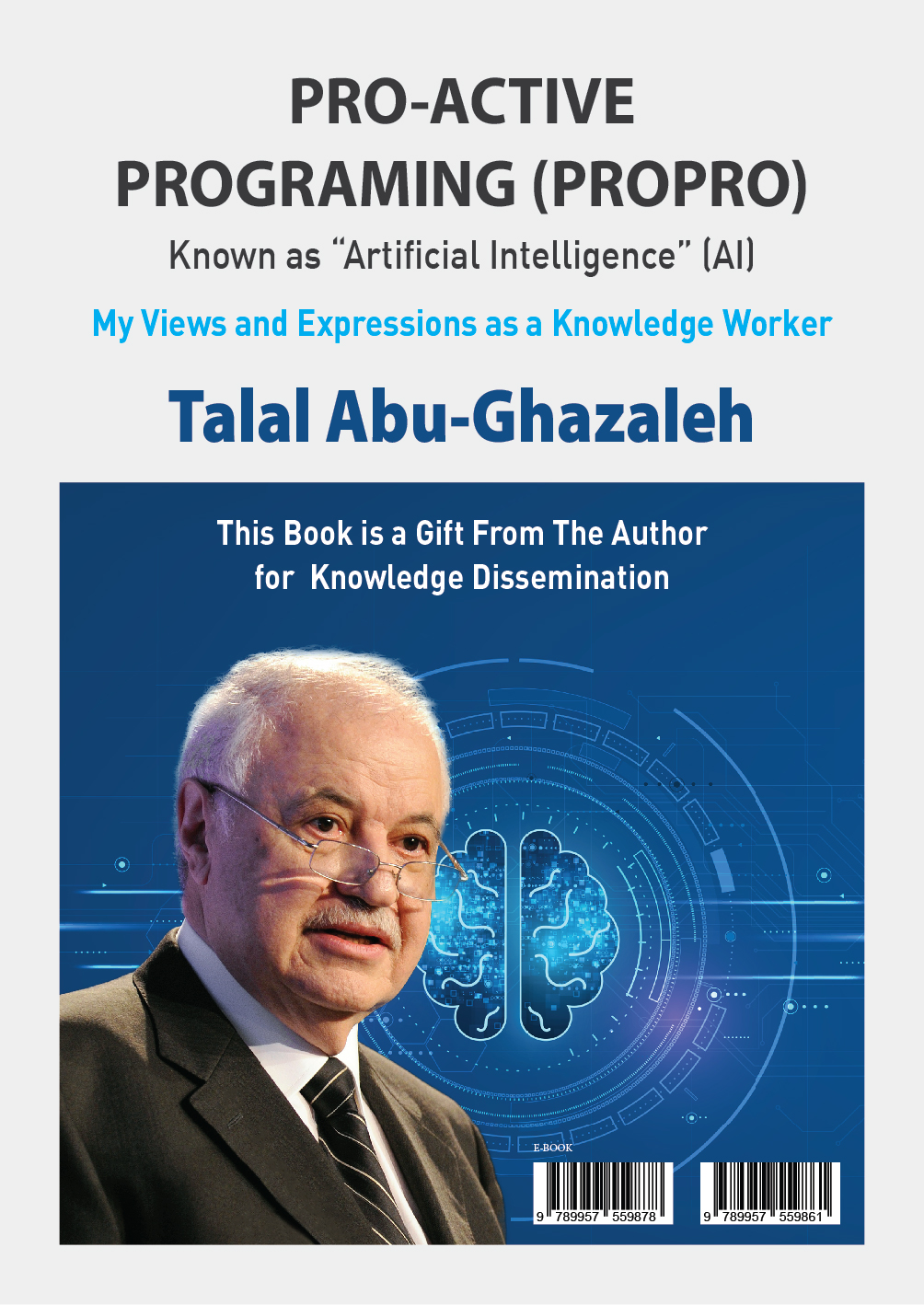 Dr. Abu-Ghazaleh Launches New Book, a first of its kind, on Perceptions and Challenges of the Future of PRO-ACTIVE Programming
AMMAN – Talal Abu-Ghazaleh Global
(TAG.Global) is introducing a new book on PRO-ACTIVE Programming(Pro-Pro)currentlyArtificial Intelligence (AI) incorporating the visions and
the perceptions of TAG.Global's Founder and Chairman, HE Dr. Talal
Abu-Ghazaleh. The book addresses this technology, its future, the challenges it
encounters, and its potential threats to the world and its inhabitants.
The newly-launched book includes a
collection of articles written by Dr. Abu-Ghazaleh, in Arabic and English that
address AI advantages, dangers, potentials, and restrictions; along with linked
opportunities and responsibilities.
The book illustrates the impact of Pro-Pro
technology on everyday life particularly the economy, education and the tactics
to capitalize on such technology and its effects on global policies.
The articles included review the author's
perspective and future predictions in this domain, enriched by the experience
he gained throughout the countless roles and positions he served over the years
and his constant follow-up of everything trendy in the world, particularly as
he served as Vice-Chair of the United Nations for Information and Communication
Technology (UN ICT Task Force) and Chairman of the Board of the Consortium for
Sustainable Urbanization (CSU).
Based on this book's content, Dr.
Abu-Ghazaleh hopes that the world will employ this technology cautiously rather
than posing an existential threat to the human community. He further urges
individuals to be wise and rational in AI development and use, while at the
same time considering its social effects.
Additionally, he urges the inclusion of
artificial intelligence in educational curricula from an early age, in order to
start teaching students the fundamentals of AI, the driver of future
technology.