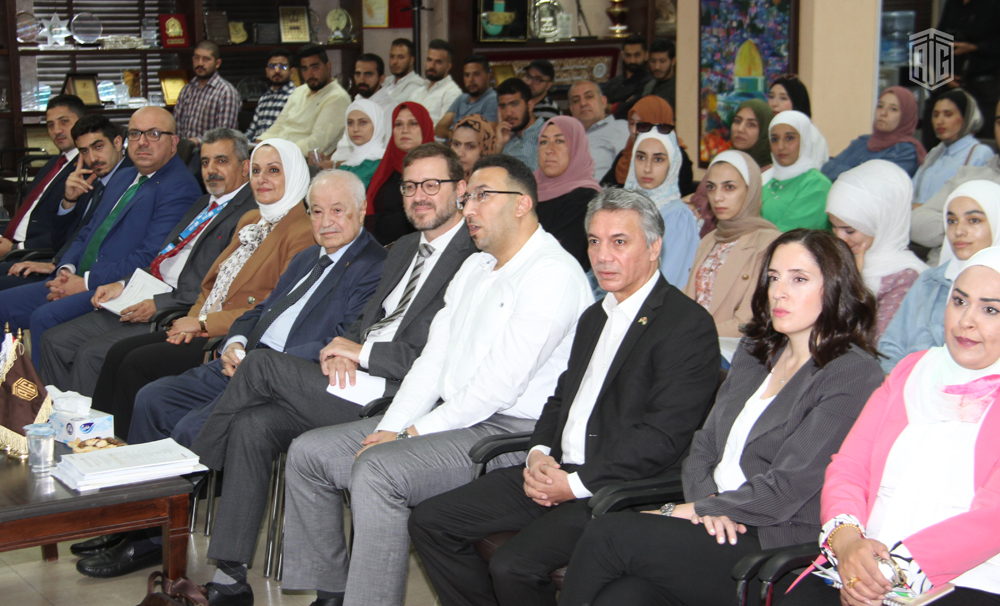 UNRWA and Abu-Ghazaleh Launch Educational Initiative for the Support of Palestine Refugees
AMMAN - HE Dr. Talal Abu-Ghazaleh, founder
and chairman of Talal Abu-Ghazaleh Global (TAG.Global),has launched a
pioneering initiative allocating one million fully funded scholarships, to be
offered by Talal Abu-Ghazaleh Global University (TAG-GU), to Palestinian
refugees for a masters degree in the following advanced educational
disciplines; including Artificial Intelligence (AI), Information Technology,
Digital Marketing, Intellectual Property, Supply Chain Management, Business
Administration and General Administration.
 The
launch was organized by Talal Abu-Ghazaleh Knowledge Forum (TAG-KF) in Amman in
the presence of Mr. Olaf Becker acting director of UNRWA affairs in Jordan, and
a number of academic figures and UNRWA representatives.
Dr. Abu-Ghazaleh's initiative grants the
Palestinian refugees the opportunity to gain knowledge, skills and experience
in some of the most in-demand careers in the 21st Century in addition to
achieving a brighter future for Palestinians who have long searched for such
opportunities to realize their potential.
He further affirmed that the scholarships
represent only one aspect of TAG.Global's multifaceted support driven by a deep
sense of social responsibility towards Arab youth as a whole and the
Palestinian people in particular.
He went on to say that the Master's degree
scholarships are specifically intended to improve educational opportunities for
Palestinians, in light of the pivotal role education plays in creating an
educated and innovative Palestinian generation; who are also ready to forge a
bright future.
Dr. Abu-Ghazaleh also emphasized the
importance of digital scholarships, which significantly facilitate Palestinian
students' educational journeys by removing barriers to mobility and reducing
accommodations costs, thus increasing access to high-quality education for
those who want to pursue their academic goals.
During the event, the newly-published book
entitled 'PRO-ACTIVE Programming (Pro-Pro) Currently Artificial Intelligence
(AI)', authored  by HE Dr. Talal
Abu-Ghazaleh was presented as a gift to the participants.
The book includes the author's ideas, and
analysis based on his experience in various knowledge areas.
The students who benefited from the
scholarships -who also attended- expressed their gratitude for the vital role
these scholarships play in enabling them to explore entrepreneurship concepts,
harness their talents and skills, unlock their potentials, and fuel their
entrepreneurial spirit.
This initiative is an additional testament
of Dr. Abu-Ghazaleh's unwavering dedication to Palestine Refugees.  Dr. Abu-Ghazaleh has also launched the
digital 'All4Palestine' platform in 2011, with the aim of documenting and
displaying the achievements of Palestinian creators and innovators around the
world.
During the meeting, Mr. Becker affirmed
that UNRWA seeks to modernize the services it provides to Palestinian refugees,
pointing out that the Agency has launched its digital platform (E-UNRWA) this
year to enable the refugees to update their data and register online. This
would effectively facilitate their access to the services available at the
Agency, including education, health, relief, social services and microfinance,
in addition to ensuring the protection of their rights and the rights of their
children as refugees in compliance with UN resolutions.
It should be noted that TAG-KF has
developed over time from a platform to support dialogue, research and analysis
of various economic and business issues at the local, regional and
international levels, to become a dynamic space for the youth to interact.
With TAG-KF's horizons broadened, the
Forum now serves as an incubator for youth initiatives and offers priceless
opportunities for the youth networking helping them carry out their projects
and startups ,as well as preparing them to achieve success in the business
world.
It is worth mentioning that Talal
Abu-Ghazaleh Global University (TAG-GU) established in 2018, offers several
distance-learning Master's programs through the free Massive Open Online
Courses (MOOCs), which enables thousands of students to enroll in the best
programs offered worldwide. Through TAG-GU, students obtain Master's degree
based on the standards of online master's degree program accreditation in the
United States.
For more information or to apply to the
University, please check the following website: https://www.tag-gu.global/ or contact via
email: tag.foundation@tag.global
Or contact phone number: 0096265100260, ext.:
4005 or 00962797227291