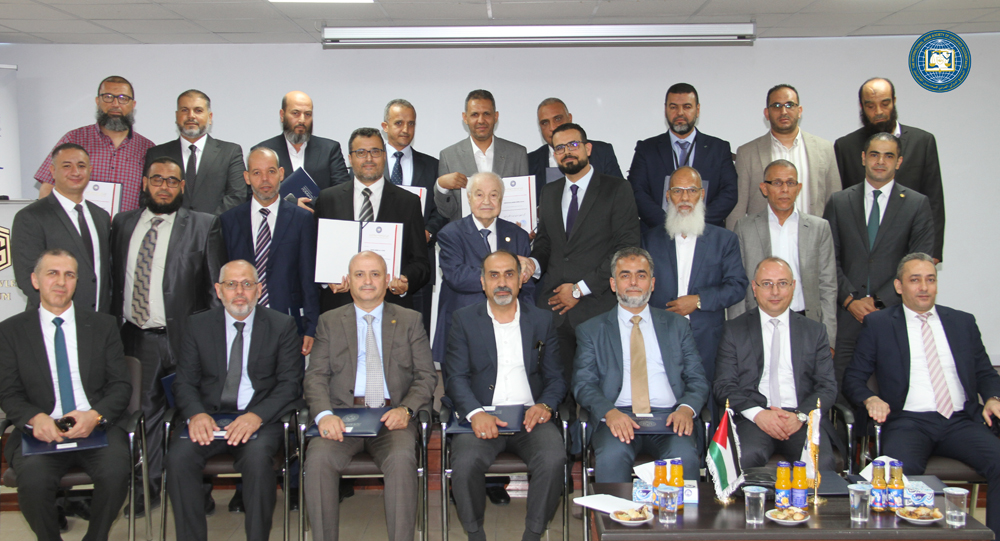 Dr. Abu-Ghazaleh Patronizes the 'IFRS Expert' Awarding Ceremony for Libya's National Oil Corporation
AMMAN - The International Arab Society of
Certified Accountants (IASCA) has organized a graduation ceremony for the
participants of the "IFRS Expert" program, organized for the cadres of Libya's
National Oil Corporation branches under the patronage of HE Dr. Talal
Abu-Ghazaleh, IASCA chairman.   
The ceremony was held at Talal
Abu-Ghazaleh Knowledge Forum Hall, in the presence of Mr. Abdulkarim Alsayed Shawya,
the general manager of the HR and the Resources Development Departments at the
National Oil Corporation.
During the program, 56 trainees from nine
Libyan oil companies participated in the digital training course that was held
for one year. 
Addressing the attendees, Dr. Abu-Ghazaleh
affirmed his pride in cooperating with the Corporation, pointing to the urgent
necessity to enrich individual knowledge skills and to keep pace with the most
recent advances in education.  He further
highlighted the importance of obtaining professional certificates through
digital learning which proved its effectiveness and efficiency over the past
few years.
For his part, Mr. Shawya stated that Libya
is committed to implementing digital transformation strategy, saying that the
IFRS Expert is the first digital certificate of its kind issued in Libya. He
also expressed his gratitude to  IASCA
for its contribution in serving the country's public interest.