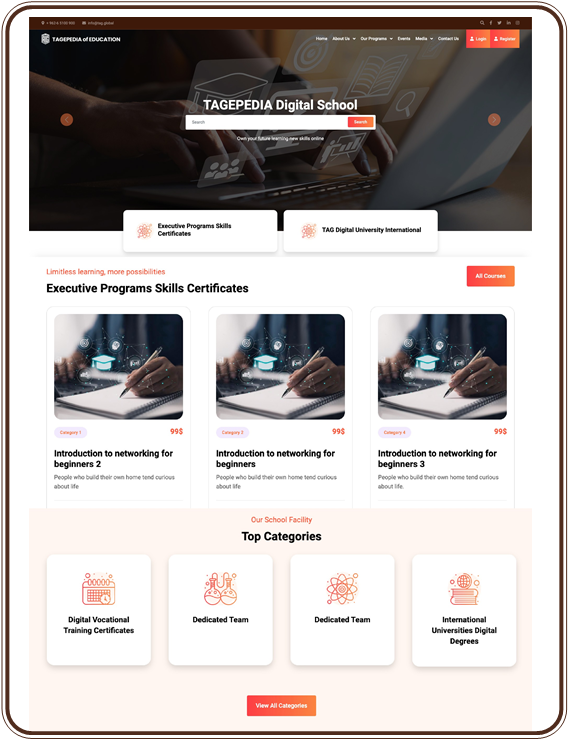 'Abu-Ghazaleh Global' Launches TAGEPEDIA Knowledge Platform
AMMAN - Talal Abu-Ghazaleh Global
(TAG.Global) will be launching its educational platform the 'TAGEPEDIA Knowledge',
which is developed by its programming experts 
in a way that easily and effectively meets and fulfills students' needs
and expectations to keep abreast with technological advancement in digital
learning fields.
HE Dr. Talal Abu-Ghazaleh, TAG.Global's
founder and chairman has stated that TAG.Global plays a significant role in the
digital revolution due to its pioneering contributions to the digital
transformation process, most particularly in the provision of professional
services it renders in terms of capacity building and skill development,
underlining the importance of keeping pace with all development in the digital
learning field and ICT-based training.
TAGEPEDIA Knowledge Platform is a huge
project that combines learning and training programs from the world's top
universities. These programs have been categorized on the platform in a way
that facilitates easy and quick access. Learning programs have been classified
according to different academic degrees (PhD, Master's, Bachelor's, and
Diploma). Concerning training programs, they have been categorized in
cooperation with specialized international institutions based on the required
skills (technical, technological, managerial, and linguistic).
Additionally, the platform displays the
details of every program, enrollment process, and the available advantages, as
it also facilitates direct registration. The Platform reflects  TAG.Global's commitment in providing
comprehensive and sustainable learning in the era of digital transformation.
It is worth mentioning that TAG.Global embraces
the idea of revolutionizing the concept of learning, with  the purpose of revolutionizing education
worldwide, and bridging the gap between traditional education and digital
learning in line with the labor market demands as digitally educated learners
would be better prepared for  the labor
market than their traditionally educated counterparts.