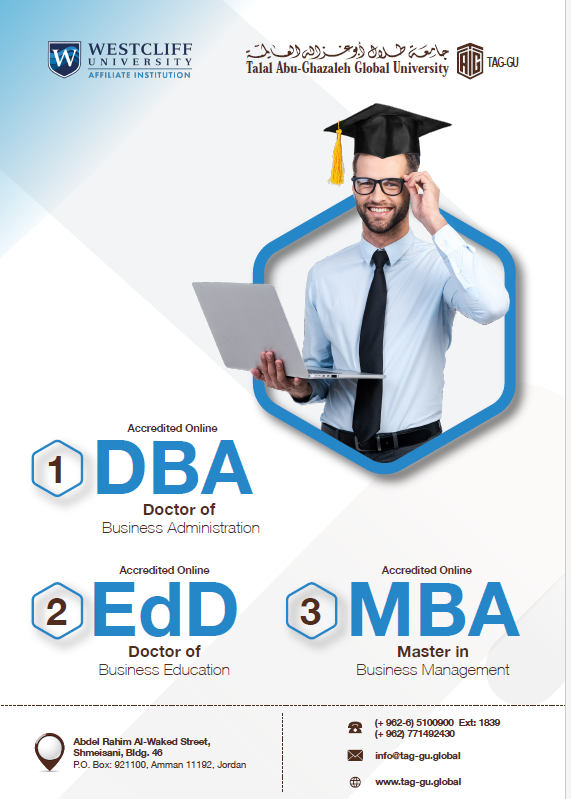 'Abu-Ghazaleh Global University' and US-based Westcliff University Open Registration for the Academic Year 2023
AMMAN - Talal Abu-Ghazaleh Global
University (TAG-GU), a member of Talal Abu-Ghazaleh Global (TAG.Global), has
recently announced that digital registration for the academic year 2023 is open
to masters and PhD academic programs, in collaboration with the US-based online
Westcliff University.
TAG-GU offers first-class education
worldwide to learners, which makes it the best gateway for global education,
promoting global citizenship and individual responsibility.
In collaboration with Westcliffe
University, TAG-GU provides the possibility of distance learning for
postgraduate programs such as master's and doctoral degrees, in addition to
other educational services, accredited from Jordan's Ministry of Higher
Education
The US-based Westcliff University
digitally delivers its lectures in an interactive method using modern and
flexible electronic systems. It is distinguished by the fact that its certificates
are internationally accredited by different accreditation and quality bodies,
such as the WASC Senior College and University Commission (WSCUC), the Council
on Higher Education Accreditation (CHEA), and the Accreditation Council for
Business Schools and Programs (ACBSP).
TAGGU, in line with the vision of its
Founder and Chairman, HE Dr. Talal Abu-Ghazaleh, strives to expand digital
technology in distance learning to provide students and professionals with
knowledge and sciences; especially for those who may not be able to afford
travel expenses.
For more information about TAG-GU, please visit
the University website:
www.tag-gu.global
,
or contact us: (06)- 5100900 – Ex: 1839.