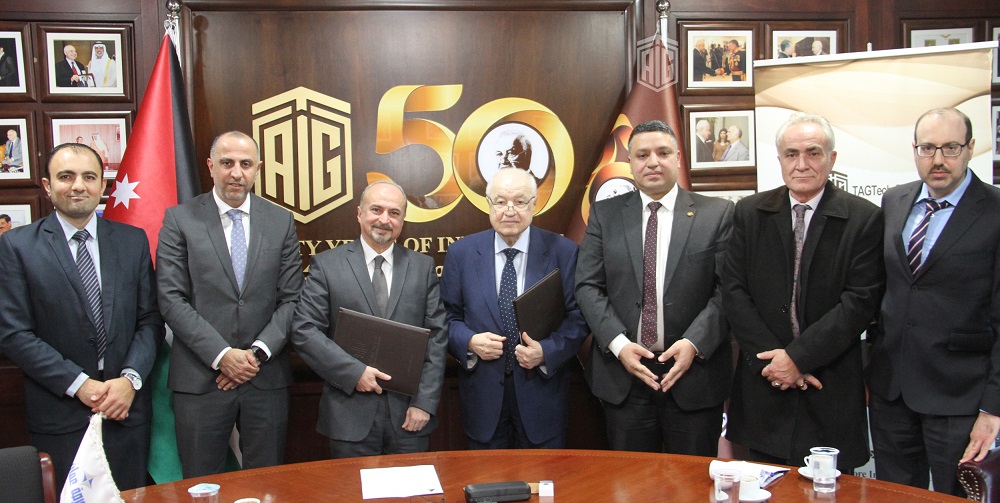 'Abu-Ghazaleh Global' and Amman Stock Exchange Sign Cooperation Agreement
AMMAN – Talal Abu-Ghazaleh
& Co. Consulting (TAG-Consult), a member of Talal Abu-Ghazaleh Global
(TAG.Global), has signed an agreement with the Amman Stock Exchange (ASE) to
cooperate in the field of consulting services.
The agreement, signed by HE
Dr. Talal Abu-Ghazaleh founder and chairman of TAG.Global, and the CEO of the
Amman Stock Exchange, Mr. Mazen Wathaifi, aims at providing consulting services
to the Amman Stock Exchange in the field of designing and implementing 
the Quality Management System (ISO 9001) at its various departments and
organizational units.
Commenting on this event, Dr.
Abu-Ghazaleh expressed his pride in the long-standing cooperation with the
Amman Stock Exchange, during which numerous projects have been implemented. He
said that this additional step indicates ASE's commitment to develop its work
and activities.
Dr. Abu-Ghazaleh also
emphasized the importance of ASE as the 'oversight entity' of this type of
important investment, which contributes to redirecting domestic and foreign
investment resources toward investments in economic activities in accordance
with the highest international standards, disclosure and transparency
practices; praising the expertise of ASE professionals, which effectively
played an important role in cooperating with the TAG.Global's consulting teams.
For his part, Mr. Wathaifi
expressed his pride in cooperating with TAG.Global, and highly commanded the
Organization's efforts in providing the ASE with the best services including
consulting, designing and implementing quality management systems, and
e-archiving services.
He further referred to the
ongoing development processes at the Amman Stock Exchange, highlighting in
particular the continued digital transformation process and the usage of phone
applications to stay up to date with stock market trading. That is in addition
to committing the AS20: the 20 listed companies that are most active and
reliable according to their highest trade dealing; and are the leading
companies in the ASE, (ASE20 Index), to establish a special investor relations
unit and submit sustainability reports for 2023.
Mr. Wathaifi also noted that
the ASE carried out several projects in recent years to improve the legislative
and technical frameworks of the investment climate in the Kingdom, and enhances
the competitiveness of listed companies, which contributes to the development
of the national economy and attracts more investment.
It
is worth mentioning that Talal Abu-Ghazaleh Global (TAG.Global) has
successfully implemented several quality management systems based on ISO 9001
in many public and private sector projects, and it is also a member of the ISO
Technical Committee 176 (ISO/TC 176).