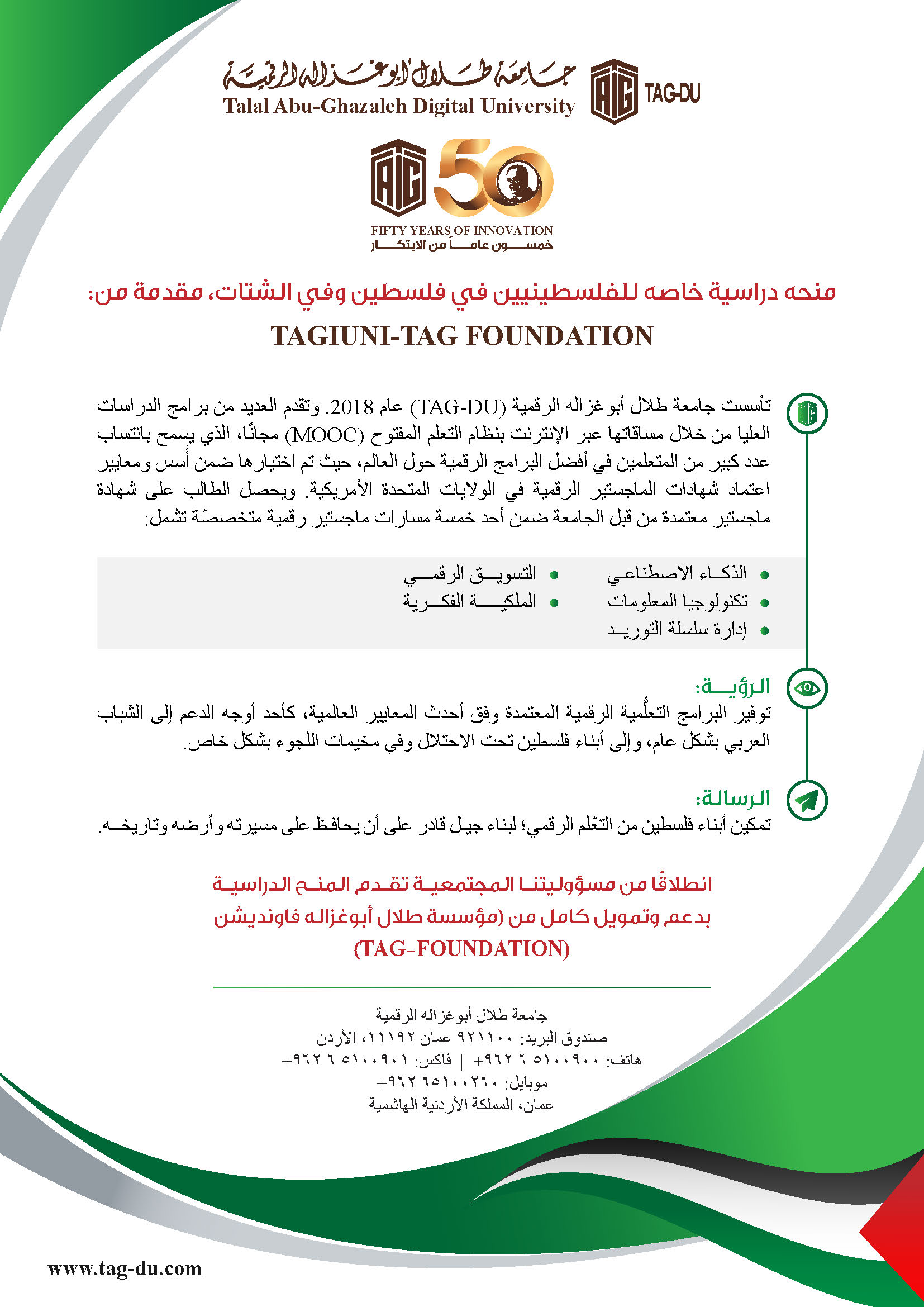 'Abu-Ghazaleh Digital University' Offers Fully-Funded Master's Scholarships for Palestinians under Occupation and Abroad
AMMAN
– HE Dr. Talal Abu-Ghazaleh, founder and chairman of Talal Abu-Ghazaleh Global
(TAG.Global), has announced the
provision of Master's degree scholarships for Palestinians, under
occupation or Palestinian refugees in Jordan, Lebanon and
Syria, fully funded by Talal Abu-Ghazaleh Foundation
(TAG-Foundation).
The
scholarships include obtaining a Master's degree by TAG-DU, in one of five specialized
master's disciplines including: Artificial Intelligence, Information
Technology, Digital Marketing, Intellectual Property, and Supply Chain
Management.
The
disciplines have been introduced in accordance with the highest international
standards. They are considered among the best specialties, as they conform with
the criteria for master's degrees accreditation in the USA.
Dr.
Abu-Ghazaleh emphasized that the scholarships initiative is one of the many
aspects of social support provided by TAG.Global, and is part of its corporate
responsibility toward the Arab youth in general and Palestinians in particular.
He
further stated that TAG.Global's core support focuses on providing education
for all Palestinians, attributed to the importance of education in developing
and improving the performance of Palestinian institutions, as well as in
building a creative Palestinian generation that safeguards its homeland and
history. He added that such digital scholarships, would help Palestinian
students overcome transportation barriers and reduce the cost of education as
the required courses will be performed online.
Qualifications
for winning the scholarship include that the student must have a minimum
average of (good and more) in the bachelor's degree; to be living in the
Palestinian occupied territories; or in Palestinian refugee camps in Jordan,
Lebanon, or Syria; and to have a certificate of the national examination
of the English language or its equivalent.
Talal
Abu-Ghazaleh Digital University (TAG-DU), established in 2018, offers a
number of distance-learning programs (Master's degree) through the free Massive
Open Online Courses (MOOCs), which enables a
large number of students to enroll in the best programs offered worldwide.
For more information or to apply to the
University, please check the following website: 
https://www.tag-du.com
 / or contact via email: 
info@tagiuni.com
,
or contact phone number: 0096265100260/ Ex: 4005