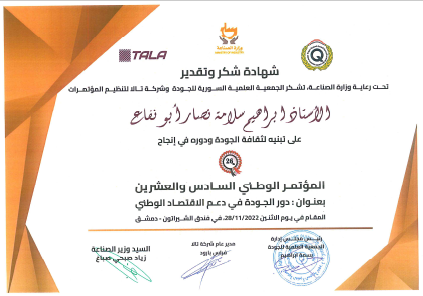 'Abu-Ghazaleh Global' Participates in the 26th National Conference on Quality in Syria
DAMASCUS
– Talal Abu-Ghazaleh Global (TAG.Global), represented by Talal Abu-Ghazaleh
& Co. Consulting (TAG-Consult), has taken part in the  the 26th
National Conference on Quality held in Damascus, Syria. The Conference was
organized by the Syrian Scientific Society for Quality to discuss the role of
quality in supporting the national economy in various areas. 
The
participation of TAG.Global comes as part of its consulting role in developing
and applying various quality systems and standards.
The
Conference, held under the patronage of the Syrian Minister of Industry, HE Mr.
Ziad Sabbagh, focused on key topics that would effectively contribute to the
improvement of Syria's economy, including quality management in the industrial
sector and educational institutions, as well as quality management in the
banking industry sector.
During
the event, TAG-Consult Executive Director, Eng. Ibrahim Abu Naffa, gave a brief
on the (ISO 22301: 2019) International Standard for Business Continuity
Management Systems. He reviewed TAG.Global's implementation of such a standard
by developing specific protocols to guarantee business continuity and disaster
recovery.
He
also discussed the similarity in the banking sector and its various financial
institutions; such as micro finance institutions, insurance companies,
brokerage institutions, securities commissions, loan guarantee corporations and
mortgage reinstatement.
It is worth mentioning that Talal Abu-Ghazaleh
Global (TAG.Global) is the global organization for professional services,
education and tech products operating in more than 100 offices around the
world.